Welcome to the Tripp Family Genealogical Website! This website is dedicated to the descendants of John "The Founder" Tripp and his wife Mary Paine of Portsmouth, Rhode Island. Search our databases of over 56,000 Tripp and collateral names compiled by Bob Tripp, Herman Tripp, and Dale Thompson. We also feature additional research files elsewhere on the website.
Also included on the website are other other early Tripp families of Nicholas Tripp (1720-1792) of South Carolina/North Carolina and Sylvanus Tripe (Tripp) of Kittery, Maine.
Hog Island Shoal Lighthouse is located 1800 feet south of Hog Island in the passage leading from Narragansett Bay to Mount Hope Bay. The photo shows the lighthouse shortly after its construction in 1901. John Tripp and other early settlers of Portsmouth grazed their livestock on the 200 acre Hog Island. (Photo courtesy of Lighthousefriends.com)
Hint Use the pull-down menu in the "Trees:" dialog box to select additional databases to search.
"Login" link is for administrators-only. No registration required to search our databases!
If you have any questions or comments about the information on this site, please contact us. We look forward to hearing from you.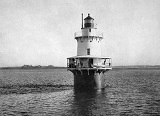 Which branch are you from?